Meet Evelyn
Evelyn Clothier is a designer of fine art and prize-winning jewelry. It has been said that " Her work is characterized by creative new approaches to traditional quality and elegance. Her innate sense of proportion and instinct for each gem's moods and strengths has earned a consensus of attention and respect from her peers. The delicate interplay of her gem selection in unique settings is unmatched."
During the last two years she earned seven coveted Spectrum Awards from the American Gem Trade Association. Thus far, in 2010, her designs have been recognized with four awards.
Her artistry was formerly in Bergdorf Goodman for eight years; when she specialized in Art Nouveau designs. She now works as a private jeweler to the trade and on a client basis for discerning individuals.
The photo on right was taken this year at the AGTA Awards dinner in honor of the winners.
Other articles and photos of selected jewelry appear below.
Town & Country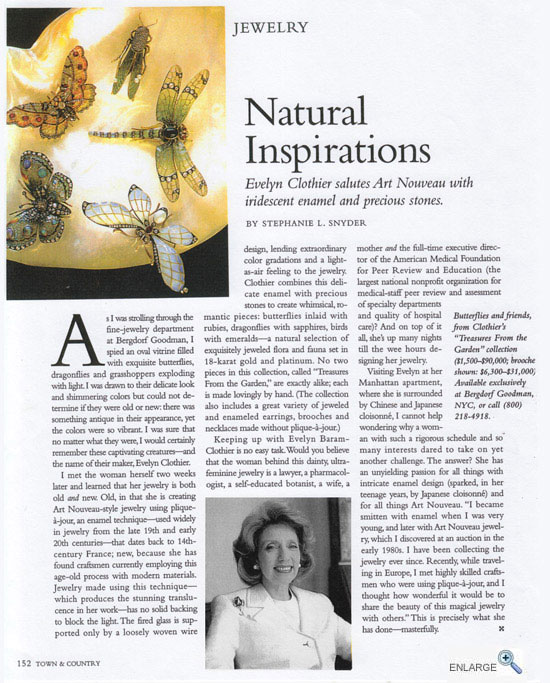 Mainline Times
Bergdorf Goodman in New York, NY has introduced a collection of handmade fine art jewelry by Evelyn Clothier. The collection entitled "treasures From The Garden," includes rings, earrings, bracelets and brooches.

Forbes
Bergdorf Goodman
Palace Hotel, Gstaad Invitation