2012 AGTA Spectrum Awards™ Winner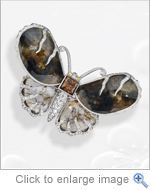 Platinum Honors
Evening Wear Division
Evelyn Clothier
Evelyn Clothier Jewelry
Platinum butterfly brooch featuring 104.42 cts. t.w. brown sapphire slices, 5.06 ct. brown sapphire, and 3.04 cts. t.w. colorless diamonds
for price Contact Evelyn
2011 AGTA Spectrum Awards™ Winner

Evening Wear
Evelyn Clothier
Evelyn Clothier Jewelry
18K yellow gold earrings featuring Aquamarine briolettes (50.95 ctw.) accented with Diamonds (9.29 ctw.).
for price Contact Evelyn
2010 AGTA Spectrum Awards™ Winner
Evening Wear
Evelyn Clothier
Evelyn Clothier Jewelry
Platinum and 18K yellow gold butterfly brooch featuring sliced Diamonds (20.17 ctw.) and pink, yellow and white Diamonds (15.93 ctw.).
Price upon request. Contact Evelyn